All about water sports


Lost Angel - The German-speaking water sports platform since 1995!!
In Germany they used to call golden showsers "urine therapy" in the past, later on they called it "natural champagne ". Not only did I not like the abbreviation NS, which is easily misunderstood politically; no, the style of the corresponding films and magazines was rather primitive. The style of "Patches" with their Watersport pages was much nicer. Unfortunately, there was no such thing in German. So I did this in 1995 and took over the nice term "Watersport" as "Wassersport" into German.
Well, and today "water sports" has become an absolutely common synonym for moist erotic pleasures. Time passes that fast.
However, if you are looking for information about yachts, boats or similar - no, this is not available here. There are plenty of other sites for that. This is about eroticism!
Most parts of the Lost Angel site are only in German, sorry. But there are a few links and books in english too:
Patches Place - The classic watersport site
Wet Set - Girls wetting their pants, the bed and whatever else they are able to
Juub's female desperation - girls that are desperate, but don't make it in time :-)
---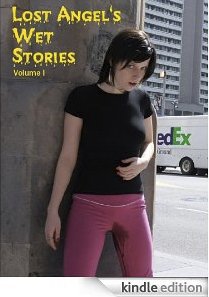 The watersport stories of Lost Angel are so damned good that they are available in English as well on Amazon.com, Amazon.co.uk,, Amazon.de, Apple iTunes and other ebook stores.
For all English and American visitors wanting to see live watersports we offer the Camfun community. If you become a member, you may watch amateurs in front of their webcams. And well, you know, they cannot leave while you're there ... so after a while they do not have a choice and have to wet their pants, I was told... :-))). Btw: Looking around and talking is free!
Yuck - somehow this seems to be an unappetizing topic!
Well, a cat likes mice - I don't. We all have our own tastes. If yours isn't mine, just look elsewhere. That you could miss something is your problem - not mine: -)
So grab a nice big glass of tea... and then don't wait for it, but go for the pleasure!!
Content & Style Copyright © 1995-2019 Lost Angel. All rights reserved.